Tony's 1974 Roamer
Approximate Layout: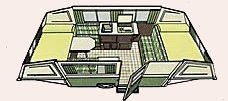 My brother Tony had the great fortune of getting his 1974 Roamer FREE. The previous owner had to get rid of it, as he lost his storage. Luckily, he was only about a four hour drive from my brother's house. The next day my brother was on the road, going to pick it up. Here are the photos we took when he got back with it. Hopefully in the future Tony will take more photos, as he's done a great many improvements since then. Until then, enjoy the pictures!
01-27-2001 - Overall Shot
Here she is. It had been sitting out in the open for who knows how many hears. A lot of oxidation of the paint.

01-27-2001 - Rear
The back of the trailer. You can see the algae and gunk on the road cover.
01-27-2001 - Rear Bed End Hinge
Someone did some crappy repairs to the bed end hinge.
01-27-2001 - A/C!!!!
After opening it up, we found a fully-working window unit and all the modifications made to set it in the window.
01-27-2001 - Exterior Light
The previous owner also added a 12v exterior light.
01-27-2001 - Damaged Door
Someone scraped/gouged the door pretty good. However, it still opens fine.
01-27-2001 - ABS Crack
ABS Crack above the window in the corner.
01-27-2001 - ABS Crack
Another ABS Crack. This was the worst one we found.
01-27-2001 - Oxidation
Another shot of the badly oxidized paint.
01-27-2001 - Front ABS & Tongue
More gunk on the front ABS. The tongue was also in pretty bad shape, and the crank was rusting out.
01-27-2001 - Front Bed End
The front bed end actually doesn't look too bad.
01-27-2001 - Back End
Overall, not too bad for FREE! In this shot, my brother had already buffed out the oxidation on this side.

01-27-2001 - After Buffing
A better shot of how the paint underneath all the oxidation is still great!
01-27-2001 - Bad Tire & Rim
The rims and tires were in terrible shape.
01-27-2001 - Access Hatches
All of the access hatches were broken & missing the covers.
01-27-2001 - Windows
The windows were basically opaque.
Jump to: | Page 1 | Page 2 | Page 3 |